If you adore mid-century modern style and have begun incorporating retro and maybe even old pieces into your decor, but you want to take it a step further and paint your walls and furniture in retro colors, we are here to help with authentic mid-century modern color palettes, carefully matched to modern paint. For this first blog post we bring you a 1958 palette matched to modern Sherwin Williams paint. Most of these authentic colors can be mixed and matched with delightful results, depending on the overall look you plan to achieve.
As you can see, colors from this delightful palette would easily compliment any of these retro cat pieces as well as many others featured elsewhere on this website: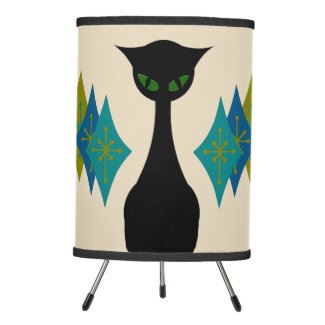 Cool Cat Mid Century Modern Retro Tripod Lamp
by kischtorium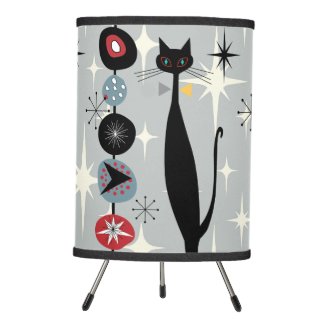 Retro Atomic Era Mid Century Modern MCM Cool Cat Tripod Lamp
by KatsTreasures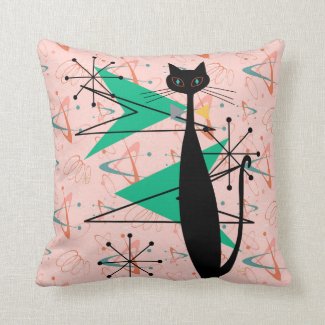 Retro Atomic Era Mid Century Modern MCM Cool Cat 4 Throw Pillow
by KatsTreasures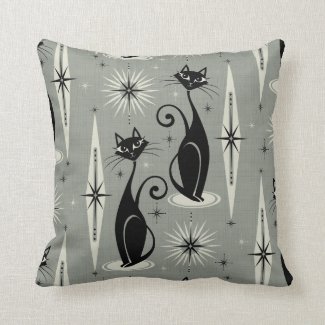 Mid Century Meow Retro Atomic Cats on Gray Throw Pillow
by StudioXtine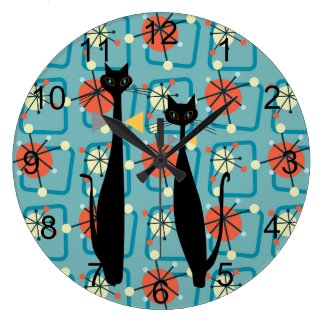 Retro Atomic Era Mid Century Modern MCM Cool Cat 4 Large Clock
by KatsTreasures
Authentic 1958 Inspiration Gallery:
Now for a little 1958 trivia: (The Year Friskies Cat Food Was Born)
USA President: Dwight D. Eisenhower
Soviet Union Leader: Nikita Kruschev
Top Hit Song: At The Hop, by Danny and the Juniors
TV Show: Gunsmoke was the biggest tv show in 1958
World Series Champions: The New York Yankees
Time Magazine's Man Of The Year: Charles de Gaulle
Future Celebrities Born in 1958 include: Michael Jackson, Prince, Madonna, Ellen DeGeneres, Ice T, Alec Baldwin, Tim Burton, Joan Jett and Sharon Stone.
The Ford EdseI is Introduced
Best Selling Books:
#1 Fiction- Doctor Zhivago by Boris Pasternak
#2 Non-Fiction- Kids Say the Darndest Things! by Art Linkletter
Top Movie: Vertigo, Directed by Alfred Hitchcock, starring Jimmy Stewart and Kim Novak
Broadway Musical: The Rodgers and Hammerstein musical hit "The Flower Drum Song" opens this year.
Average Cost of new house in 1958: $12,750.00
Average Yearly Wages in 1958: $4.600.00
Gallon of Gas in 1958: 25 cents
NASA was created in 1958
First Satellite is launched: The Soviet Union launched Sputnik 3 on May 15, 1958
United States Chess Championship Winner: 14 yr old Bobby Fischer
Popular Candy in 1958: Charleston Chew
Brand Name Food Introduced in 1958: Rice-A-Roni, Cocoa Krispies, Cocoa Puffs, Jif Peanut Butter, Alfa-Bits, Goldfish Crackers and Friskies Cat Food
Wham-O introduced the Hula Hoop in 1958
We hope you enjoyed our first blog post. There are more to come, so please check back often.